Sensory Stars Rewards Program
Earn Sensory Stars to Receive Discounts and Special Offers!
Becoming a Sensory Star Rewards Member is simple and completely free. Join today for a special welcome offer or sign in to your account to earn Sensory Stars. There are many ways to earn points - simply shop our site, refer a friend, or connect with us on our Socials. We will even give you special bonus points on your birthday!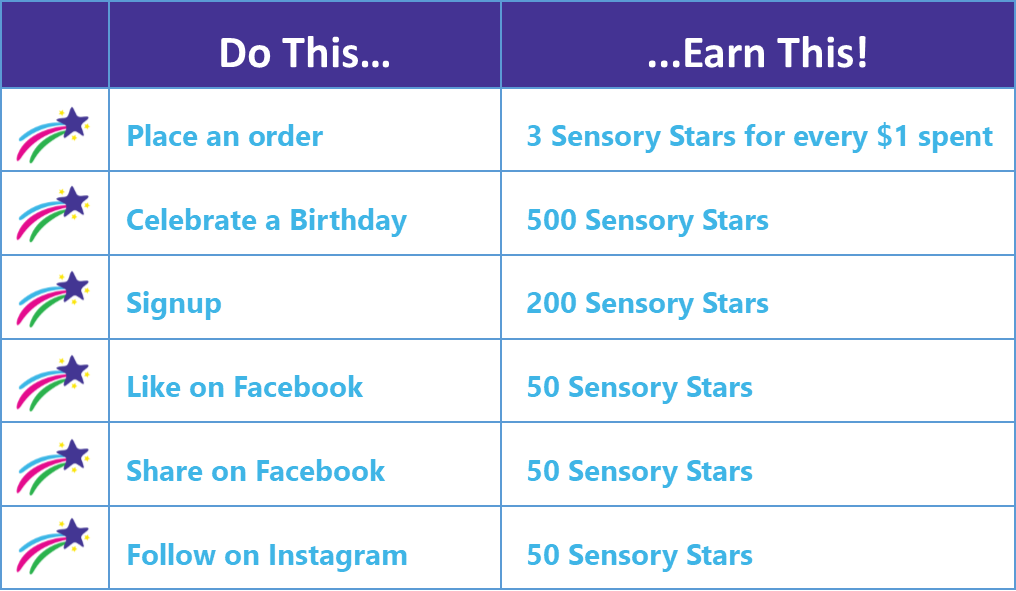 Sensory Stars Rewards Program Terms & Conditions
General
These terms and conditions define the conditions of membership in the Sensory Stars Reward Program set up and managed by Purple Spectrum Pty Ltd T/a Sensory Oasis for Kids which allows members to earn loyalty reward points ("Sensory Stars") to benefit from.
Membership
You must create an account on www.sensoryoasisforkids.com.au to obtain membership in the Sensory Stars Rewards Program. Once you have created your account, you are automatically enrolled in the Program and are a member. Membership is free and no purchase is necessary to obtain membership.
You are only allowed to have one account per family / organisation. People who are discovered to have more than one account will forfeit their Reward Points and will be unsubscribed from the Sensory Stars Reward Program.
Eligibility
You must be 18 years or older to become a member of the Sensory Stars Reward Program.
Earning Points
You can earn points with every purchase on www.sensoryoasisforkids.com.au. To receive points, you must log into your Sensory Oasis for Kids account. For every $1 you spend on purchases, you earn three Sensory Stars. Sensory Stars are added to your account once the order is paid.
Points are based on your order total after deduction of any discount codes (including discount codes for gift cards), but including taxes and shipping costs.
In addition, you are eligible to receive the following extra points to your account:
(i) 200 Sensory Stars when you register a new account on www.sensoryoasisforkids.com.au
(ii) 500 Bonus Sensory Stars for your Birthday
(iii) 50 Sensory Stars for liking Sensory Oasis for Kids Facebook page. This may be used one time only
(iv) 50 Sensory Stars for following the Sensory Oasis for Kids Instagram page. This may be used one time only
(v) $5 Off Coupon for you and your friend when you refer them and they make a purchase.
You refer a friend by sharing your referral code. You must enter the email address of a friend who has not made a purchase yet. A referral link will be sent to your friend with a $5 off coupon. You will receive your $5 off coupon if the referral friend used the link sent to them from your referral account and makes a purchase on our website.
Reward Points earned for a purchase that is then the subject of a return, cancellation, refund or declined credit card, or other credit will be deducted from your account in an amount equal to the Reward Points earned for the original transaction.
Redeeming Reward Points
Reward Points must be used in increments outlined in these Loyalty Terms. The maximum number of Reward Points that may be used in a single transaction is 50,000 Reward Points.
You can redeem Reward Points by clicking on the tab "Rewards Program" on your account. Click on "View rewards" in your account. You also find the Reward Points section in the dropdown menu of the person icon.
You can choose the amount of Reward Points you want to redeem and receive a coupon code immediately that you can use. You will get a confirmation of the coupon code in your e-mail, which you can use during the checkout procedure in the field marked "discount".
You can use only one discount code per transaction. Reward discount codes may not be combined with other discount codes. Reward Points accumulated on different accounts by different members may not be combined or aggregated to make purchases of products or for any other reason.
Expiration
As long as the Sensory Stars Reward Program is in place, Sensory Stars do not expire. Purple Spectrum Pty Ltd T/a Sensory Oasis for Kids reserves the right to cancel the Sensory Stars Rewards Program at any time which will automatically cancel all accumulated points.
Other
Your use of the Sensory Stars Rewards Program implies your full acceptance of these Loyalty Terms, together with any and all rules and policies provided by us including our Privacy Policy.
We reserve the right to change these Loyalty Terms at any time by posting revised terms on this website. You are advised to check the Loyalty Terms on this website from time to time for any updates or changes that may impact you.
We reserve the right without notice to cancel, hold, void, suspend or restrict the Sensory Stars Rewards Program, your account, the redemption of Reward Points, or any aspect of the Sensory Stars Rewards Program, including, without limitation, the point conversion ratio and the point expiration policy at any time.
We may revoke your membership in the Sensory Stars Rewards Program if we believe or suspect fraud or abuse relating to the accrual of Reward Points or redemption of rewards.
Your Sensory Stars balance, as reflected in our records, shall be deemed correct. We reserve the right to determine the amount of Sensory Stars in your account based on Sensory Oasis for Kids internal records related to your account. In the event of an inconsistency between the amount accrued in your account as stated on your receipt and our internal records, our internal records will control.
Sensory Stars are non-transferable, nonredeemable for cash, are non-refundable and are not valid outside of www.sensoryoasisforkids.com.au. We will make reasonable efforts to award you Sensory Stars as outlined above, but we are not responsible for any technical or unforeseen errors that may occur.
All Sensory Stars and subsequent rewards must be gained, earned, and used in accordance with the rules and guidelines in these Loyalty Terms. We have the final authority to decide whether an activity qualifies for Sensory Stars and / or discount codes.
We shall not be liable for any loss, expense (including, without limitation, attorneys' fees), accident, or inconvenience that may arise in connection with the use of Sensory Stars or discount codes, or as a result of any defect or failure of rewards save to the extent in which such damage or loss arises out of our wilful misconduct or gross negligence, except as otherwise provided by applicable laws. Nothing in this Agreement shall restrict our liability pursuant to applicable law.
You agree to not use your membership in any manner that is unlawful, misleading, deceptive, unfair, or otherwise harmful to us and/or our customers.
Governing Law
You agree these Loyalty Terms and all claims or causes of action arising hereunder shall be governed by and construed in accordance with the laws of Australia.